An Angelic Endeavor
Through no small effort on the part of the Cosmic Heroes, the first stage of Raphilim's plans have come to fruition.
The land in the Sanctum has been prepared and is now ready for grading, a task well-suited to the Archangel of earth, Uryel. Having completed her original task of transporting the shrines dedicated to the heavenly Arks, Uryel was put to work soon after her arrival.
Though Seraphim have no need for rest or refreshment,
Raphilim
has convinced her somewhat narcissistic colleague that Drink Sets will bring her great fortune. Take this opportunity to show her the joys of the material world and bring her some chilled refreshments for a divine reward!
Find and collect [Drink Sets] in the following:
Receive 1-3 from the following upon completion:
- Union Wars(No Restrictions)
- BR <5.0
- 6+ Player(No Restrictions)
- 6+ Player(BR <5.0)
- Victory Order Room
Receive 3-6 from the following upon completion:
- BR >4.0
- 6+ Player(BR >4.0)
In celebration of surpassing the 1300 twitter follower milestone, the following rewards have been unlocked:
- Twitter cube count 1x reset.
- Talk to Raphilim in the Sanctum to receive a 7th Anniversary UC Cube and SDX Coin.
- Rare Tune Sets are half-price in the SDX Coin shop.Angel Coin Shop
Angel Coin shop has been updated with new contents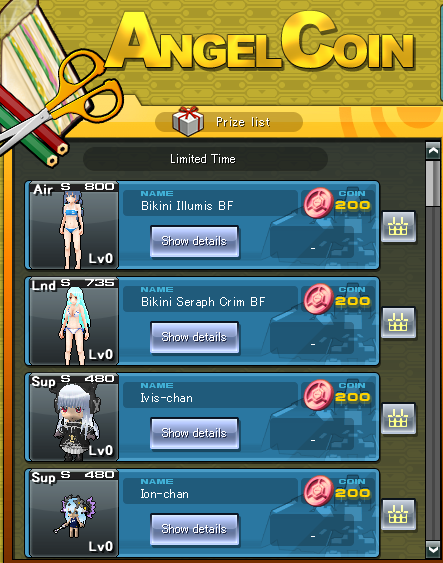 ------------------------------------------------------------
Clan Fight System
Clan Fight
is a game mode that allows clans to compete against each other every week! Check it out by clicking on the Clan Fight Info button underneath Epoch Battle on the Arena menu.
The Regular Clan Fights scheduled are
09/02, 09/09, 09/22, 09/29 at 19:00
at
19:00 - 20:30
server time. To participate, register your team from the Clan Fight screen after the event has started. Teams that register will be automatically matched up with each other.
For more information about prizes and more specific rules,
click here.
*Regular Clan Fights give out 3 Clan Coins to Winners! You will receive 1 Clan Coin, even if your team loses!
------------------------------------------------------------
Other
Balance Adjustments
Melfi's Granted Bow has been adjusted as follows:
- Repair field no longer repairs the caster.
- 50 HP restored upon deployment of the Repair field.
Bugfixes
- Fixed a bug in which Malca Qasay's Stiria Rod's "ICE BROOM" would often render in the wrong position.
- Fixed a bug in which the 3Day Aerial Step cartridge was accidentally made available for purchase.
Misc.
- Malca Qasay's Stiria Rod's "ICE BROOM" now automatically transitions into a combo attack when Boost Gauge is depleted.
- Apollion's WB description adjusted.