Hello from the CosmicBreak Service Team. Weekly Maintenance is complete!
------------------------------------------------------------

Campaigns & Events

The June Bride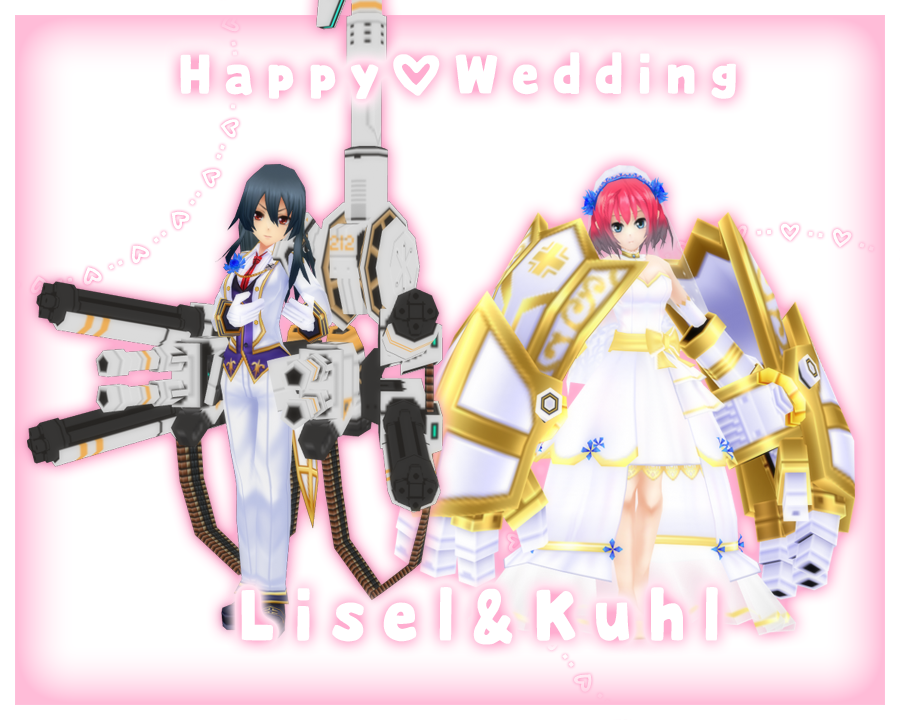 The Lebruck garrison on the Cosmic Ark is abuzz with hushed excitement, as the majority of its members make preparations for a most joyous event.
Rumors have it that the illustrious Colonel Lisel Zweig and her one-time prisoner of war, Kuhl were spotted together trying on wedding attire.
Whether or not the rumors have any truth to them, the Lebrucian soldiers seem intent on celebrating and you've been enlisted to help!
Talk to the Following npc to receive some gifts!!
Amelia Leopold - Cosmo Unison DELTA
Shannon Whizbang- Super Deluxe Tune Up Set
Sasha Tereshkov - Cosmo Harmonics GAMMA
Hanna Fritz - Slot Protector OMEGA
June Bride Garapon is now available

Find and collect Yellow Bouquets in the following:
Receive 2 - 4 from the following upon completion:
- Union Wars (No Restrictions)
- BR >4.0
- BR <5.0
- 6+ Player (No Restrictions)
- 6+ Player (BR >4.0)
- 6+ Player (BR <5.0)
Sometimes receive 1 upon completion:
- Union Wars (Legion)
When you've gathered enough, bring the items to Laika or Nora to receive a special wedding gift!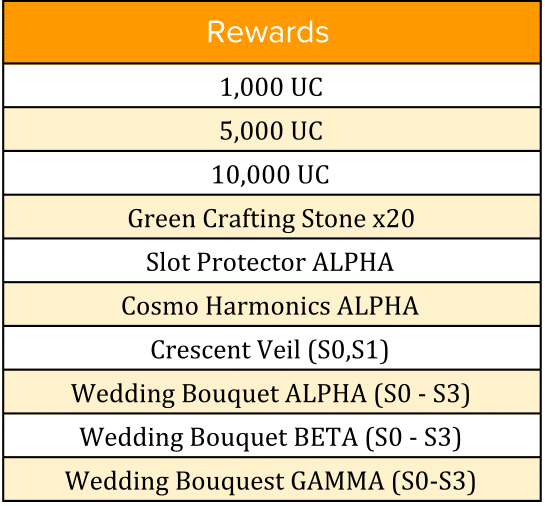 Act fast, preparations for the event must be completed by 08/14!
The following characters have been temporarily added to the SDX coin exchange. Talk to Gisele Noire in the Anniversary area to check them out!
- Wedding Kuhl
- Wedding Lisel
- El Hadelos
- Dreiblitz
- Raphilim
- Vermelho + Aegis Module
- Vermelho + Titan Module
Tuning success rates have been boosted by 10%
------------------------------------------------------------
Clan Fight System
Clan Fight
is a game mode that allows clans to compete against each other every week! Check it out by clicking on the Clan Fight Info button underneath Epoch Battle on the Arena menu.
The Regular Clan Fights scheduled are
08/07, 08/17, 08/22, 08/29
at
19:00 - 20:30
server time. To participate, register your team from the Clan Fight screen after the event has started. Teams that register will be automatically matched up with each other.
For more information about prizes and more specific rules,
click here.
*Regular Clan Fights give out 3 Clan Coins to Winners! You will receive 1 Clan Coin, even if your team loses!
------------------------------------------------------------

Other
Balance Adjustments
Hadelos BS now deals damage accoding to its STR values.
- Force 6 -> 5
Raphilim Wing has been adjusted as follows:
- Tracking has been improved.
- Damage multiplier changed.
Raphilim BD's "JAMMER WIND"has been adjusted as follows:
- Range: 300 -> 340
- Projectile size increased.
Raphilim BD's "ANGEL COMBO"has been adjusted as follows:
- Ammo: 20 -> 30
- Cooldown for beam attack reduced.
- Ranged Angeloi's HP has been increased.
Raphilim's specialized WB Macroburst Cyclone has been adjusted as follows:
- Restores 80HP on activation.
- Wonder Bit gauge accumulation rate increased.
Titan Module's "ROCKET PUNCH" has been adjusted as follows:
- Ammo: 10 -> 30
- Range: 200 -> 250
- Cooldown time reduced.
- Firing angle adjusted.
Titan Module's "PUNCH" has been increased from 32 to 34 Force.
When 2 Titan Modules are equipped, "VALKYRIA ATTACK" has had its damage multiplier adjusted.
Aegis Module's "BARRIER TACKLE" has been increased from 28 to 32 Force.
Bugfixes
Fixed a bug with Eris BS "WING GUARD" not activating the Crimson Veil effect.