at least its something, though i prefer the kore janai robo collab they had years ago...
and its miles better than that shitty q&q collab cb had recently done and maybe even rokujouma cb had done
its their third time doing a collaboration in this game
although "everyday group" or nichijou kumi
is literally a group of youtubers from the looks of it frankly
that does game commentary
and they have their own youtube channels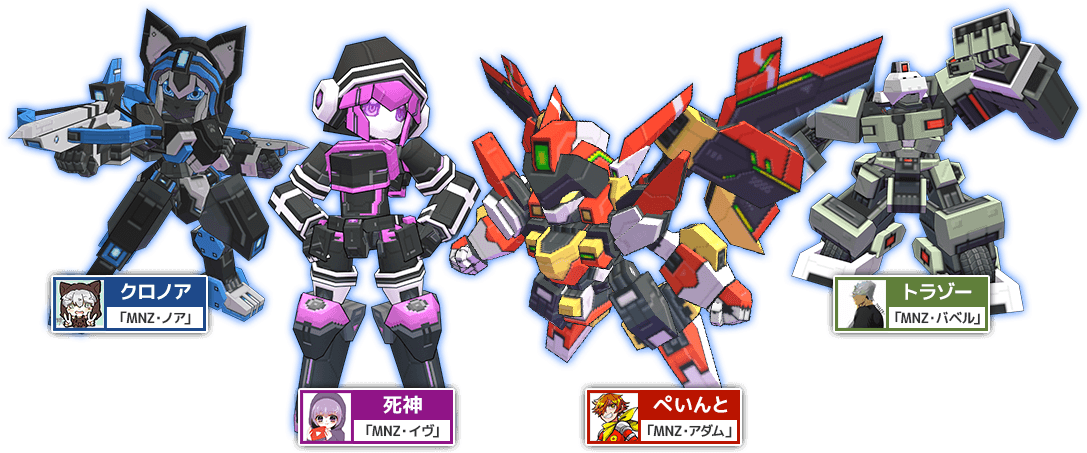 the robots shown above literally represents that person that was below them
also those units shown above are captain units which can be bought in the department store with mt
their weapons are also obtainable from missions in each planet
and what does MNZ stands for?
Machinery Nomad Z
they have regular units which are found in four planets
mnz adam
excels in flying speed and fighting ability
mnz adam (regular)
mnz adam c (captain)
great great blade
mnz eve(nothing to do with that eve you know)
verstile unit in every aspect
regular
captain(mnz eve c)
black jealousy rifle
mnz noah (literally neo cat c but more on the furry side)
operates range weaponry easily
regular unit
captain ( mnz noah c)
Clot M82 rifle
mnz babel
high hp and fast ground speed
regular
captain (mnz babel c)
lazot DNL grenade
and there are 4 types of weapons which have 4 colors which makes it 16 total
which are made using materials acquired during the collaboration peroid
also a new hd part called cube hd is also be added
which allows you to skin freely

collab peroid
05/07/2018 - 26/07/2018
retweet campaign which you wont need to do anything really
heres the codes for free goods
100RT: yyyjdc ( Gacha SP ticket)
200 RT: yhkuzt (Purple Crystal)
300RT: adhgnk (Gold Robonium × 10 )
400 RT: zsjrcc (Green Crystal)
600 RT: ppsipx (Gacha SP ticket)
800 RT: ykzwgg (zero knight')
1000R:tpptdk ( Gacha SP ticket)
day1 collab video
they have added up to 100 channels which feels bonkers
at least it does have something positive, which is hunting field bosses in 100 channels that is
cube hd is added in the parts department store for 10,000 c$
which you can buy as many as you want
but heres a free code that let you have one cube head for free
MNZ-NICHIJO-2018
skin
ideal for 8 bit style character heads
and also miencraft stuffs i guess
along with anything square you wanna do
lets not talk about this
MNZ captain units are added in robo department store for 50 mt
Spoiler:
though they kinda feel mediocore really
since they are literally meant for early game
you can get the regular units as drops thankfully
but only in pold, gernia, gald and dego
all 4 of them do drop in all 4 planets, but the drop frequency of that specific unit does depend on what planet you are hunting in
adam drops more in poyeen
eve drops more in gernia
noah in gald
and babel in dego
regular units do not have any built in weaponry
but you can however upgrade their parts via the laboratory
also collab exclusive crafting materials also drop in their respective planets
a new kind of manimo which is literally a beetroot is added as a drop from enemies
not as a playable unit but as food.
heals 1500 hp and stacks up to 3 per inventory slot
and of course the 4 weapons
sadly, they arent upgrades, but they are seperate weapons
the ones that uses ice materials is the strongest of the four  
and for the weapons
they are obtained in the missions that are labeled with [event]
as shown below
you also get a full set of units you have already obtained on your first moment of playing the game
and some mt.
dego gives 50 mt
and oddly gald's doesnt give any mt
which all four are just basically the mission you do to get your rank promoted in those 4 planets
if you arent new here, it will be a cakewalk really
black jealously rifle
klot m82 rifle
lazot dnl renade
great great blade
and you can only get those weapons once which is a real bummer.
these weapons only needed pretty low weapon profiency (less than 100) to weld them
Spoiler:
and yeah, also meant for early game use
but if your unit have kinda bad weapon profiency stats, you can make it use those
you can also upgrade them
which the upgraded version themselves required 120 of that respective profiency to weld them
and they are alot stronger than their original counterparts
heldkaiser fb and transonic x2 are added in sp gacha 2
till 26/07/2018
whoever is interested in playing this game can also get either one of the four regular mnz units
which comes with a rookie bit gun mod and a paladin sword'
when they first started the game
along with 3 gacha sp tickets
1 geograsis g
1 might bomber bb
1 arte maid
1 gathima(the green one)
1 zero saber
10 gold roboniums for 100k exp
3 shaok, vulture and puush warp gates (don't use them at this point really)
1 viper shield
10 blank packs
10 repair essenses which with those 2, you can make 10 repair pack 2000s
will be adding more later