halloween campaign finally came
in three parts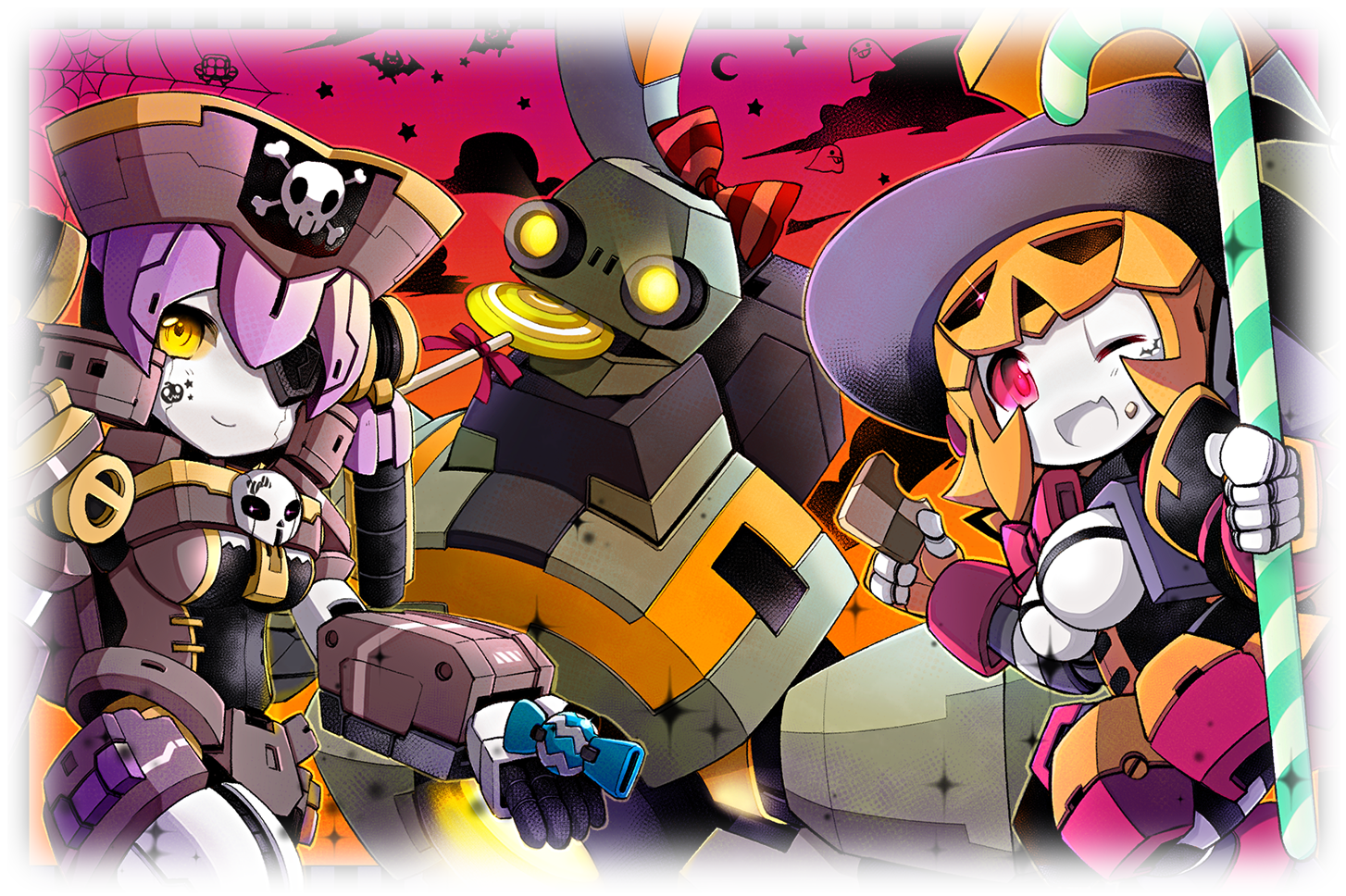 as usual, there is the halloween dungeon that can be accessed from the premium zone
there are new parts that will be dropping in there which is rosario shield and coffin gun? which is important for a quest
and comes in 3 difficulties which the prize quantity varies
and you also get new black halloween crystals which are important
which is needed for an event chain quest and as entry fee for the next batch of update
and you also get new halloween crystals★★ (orange) which is as usual for the other quest which you can get various goods
and for the whole quest for that, you can get 2 gale scythes★ , 2 "reaver" scythes ★ which is a lightning version (and yellow) of gale scythe,
rosario shield
3 gacha sp tickets and 1 prototype ominous scythe
you will have to wait for the recipe for the finished version
and many more
the total you needed to acquire all prizes is 20 hard mode runs worth.
for the other chain quest which is literally a murder case, you have to look for a frog head npc in pold base to start it which you have to repair the memory in the end of the dungeon with black crystals which can be dropped from the enemies in there
keep doing until after you gave it 50 of them
which you have to look for rotten lemures in pold base
but, to actually trigger a "!" on him, you have to give him this
which is a new drop part added in the dungeon
next suspect you have to look for is joust gander
to complete it, you have to find a mystery flim which is also found in the dungeon
but not common
to know what it is, its the one that has a question mark
head back to the usual npc
look for a mirale
and this time, you have to give her a halloween rod
if you do not have one yet, do the halloween crystals chain quest for it
and its alright to sacirfice one.
report back
now you look for p mona
report back
which he decided p mona is the culpirt
and you get a full p mona set and the halloween rod you have just sacrificed back
you have to do this chain quest for the next upcoming batch of quests
crugis, psycho fomula something and a mirale hw again is added in gacha sp
literally bad luck if you rolled her with mt
till 02/11/2017, by retweeting a certain number of times, you get a free a mirale hw and 3 gacha sp tickets depending on the number of retweets,
after a certain amount of retweet is archieved they will send out a code that can be used to redeem each prize
to redeem the prize
choose the 4th option
「follow900」literallt to celebrate 900 users gacha sp icket
「38775ecy」 50RT gacha sp ticket
「yg3iugcu」 100RT a mirale lg
「u6f52a4j」 150RT a mirale lg
「fhxtx96k」 200RT a mirale hd2
「uwrjgcbm」 250RT a mirale am
「ec9a4pm2」 300RT gacha sp ticket
「rh44bw68」400RT a mirale bs2
「ata8p6eg」500RT gacha sp ticket
「bpemcb38」600RT a mirale bd2