Hello from the CosmicBreak Service Team. Weekly Update is complete!
*50% OFF SALE for many Rt Robots & Items in Shop! Sale ends 8/30.

*Voting Ballots for the Chibi-fy contest can now be bought using Star Coins! Enter the usual Star Coin Shop inside the SHOP to purchase them. (~8/30) Voting progress (8/23) is posted below↓.
------------------------------------------------------------
[NEW] Planet Torencia Quest!
Returns with Pepens!
- Torencia Cube Contents -
- [Sp] Mecha Egg Contents -
How to visit Planet Torencia:
- Enter Planet Torencia from the Ground Area.
"Torencia Ticket A" which are needed to join Torencia, can be received by logging in every day + a max of 2 will drop randomly in Arena. (They are not available from Legion, Chaos Rooms, Clan Fights, Team Fights, Training Arena.)
- NPC Litia will be kindly giving out free Torencia Ticket As in the Ground Area daily.
- A 5 Ticket Set may be bought for 100RT from SHOP. This ticket set will be available until 9/6. A max of 5 Sets may be bought during the term.)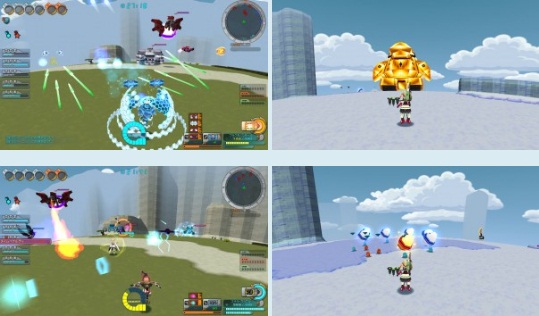 Notes about Torencia Quests:
- Find Blue Gates in Torencia to move thru areas. Torencia has a total of 6 areas. Using the Return Gate will allow you to go back to the lobby with you prizes. When you have complete all areas, you will reach the Outpost; The Outpost has a Return Gate to return to the lobby, & a Blue Gate which will return you to Area 1.
- You will notice that the Countdown/Remaining Time will be deducted when you or team mate robots are destroyed. Amount of time deducted will differ according to the cost of the destroyed robot. (When your remaining time becomes 0, your Quest will automatically end, but you will be able to keep your prizes.) (You will not be able to keep your prizes if your give up (Esc key) during the Quest.)
- Drop Tickets & Parts do not affect prizes of Torencia.
- Normal Bosses (which are only available in HARD mode) will always drop Torencia Cubes.
(You will receive the item/UC as long as someone in your party picks it up. When multiple parties are involved in destroying an enemy, the party including the member who gave the most damage to the enemy will be rewarded the drop item.)
- Gold Pepen Boss are found in both EASY and HARD mode.
HARD mode Gold Pepen Bosses will drop a "[Sp] Mecha Egg G" when destroyed. EASY mode Gold Pepen Bosses will sometimes drop a "[Sp] Mecha Egg G" when destroyed. ([Sp] Mecha Egg Ws will drop like Torencia Cubes.)
- Rather than opening them, you can choose to sell [Sp] Mecha Egg Gs from your Garage for 50,000UC.
- [It] Delight Cubes found in [Sp] Mecha Egg G contain x5 Delight Tickets.
Note that Delight Tickets are deleted 8/30. Unopened [It] Delight Cubes will be deleted from your inventory on 9/27.
Planet Torencia will be open until 9/6.
Torencia Cubes and [Sp] Mecha Eggs will be deleted 9/27.

-----------------------------------------------------------

VOTE: Who Should Become the Next Chibi!?
[Still Running!]

Collect Survey Ballots and vote for whoever you think should become the next chibi!!
Winner will be turned into a Chibi using Koko Gaap's magical powers! (・∀・)
Speak to Koko Gaap in the Anniversary Area to submit your ballot!!
- Union Wars: Receive 1~3 Survey Ballots.
- Epoch Battles Receive 1 Survey Ticket.
- Region: Receive 1 Survey Ticket.
- Chaos Rooms: Receive 1 Survey Ticket if your team wins.
- Clan Fight, Training Area, Team Fights do not give out Survey Tickets.
Starting 8/23, Voting Ballots can be purchased using Star Coins in the Star Coins Shop.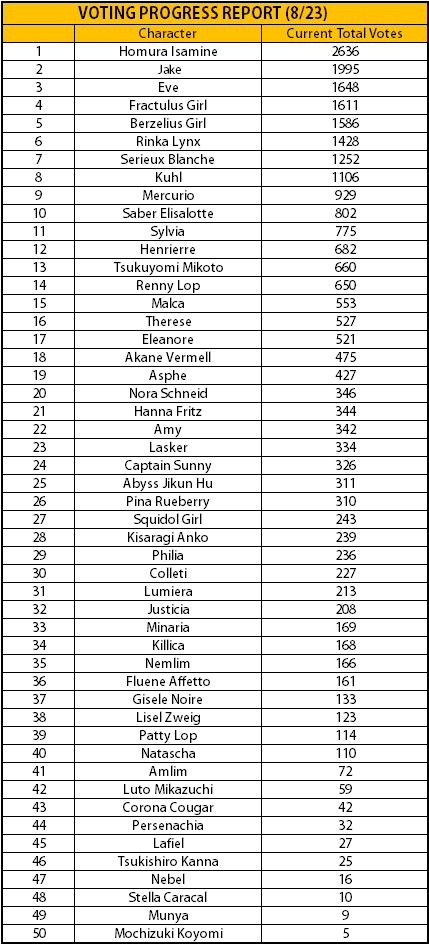 Here's how the current placements look now! (*Data taken during 8/23 Maintenance.)
Homura is in the lead with a total of 2636 Ballots. But there's still 1 more week to go!
Voting ends 8/30 Maintenance!!
------------------------------------------------------------
Shop Robot Update!
Squidol Girl will be available from Shop until 9/6. Mach Knight will be available until 8/30.
------------------------------------------------------------
Bazaar!
We will be holding a Bazaar Event:
7/27, 7/28, 7/29, 7/30, 8/4, 8/20, 8/28
Trade away stuff you don't need and pick up anything you do! Also,
IMPORTANT NOTE: Since the addition of Bazaar to the game, we have been receiving an increased number of reports regarding accounts being stolen and/or cleared out due to password sharing. REMEMBER, NEVER TELL ANYONE YOUR PASSWORD!!! If you lose items/robots from your account because you told somebody else your password, it is highly unlikely that we will be able to help you, especially if the incident involves said items being traded away via the Bazaar. Thank you in advance for your understanding. Happy trading!
-----------------------------------------------------------
Clan Fight System
Clan Fight is a game mode that allows clans to compete against each other every week! Check it out by clicking on the Clan Fight Info button underneath Epoch Battle on the Arena menu.
The Regular Clan Fights scheduled are 8/6, 8/14, 8/20, 8/28 at 19:00 - 20:30 server time. To participate, register your team from the Clan Fight screen after the event has started. Teams that register will be automatically matched up with each other.
For more information about prizes and more specific rules, click here.
*Regular Clan Fights give out 3 Clan Coins to Winners! You will receive 1 Clan Coin, even if your team loses!
------------------------------------------------------------

Other!


- Summer Parts return to Angel Coins Shop and will be available there until 9/20. - Delight Tickets and Delight Garapon will be available until 8/30.
- Sunlife Garapon, HM Garas will be available until 8/30.
- Union Wars Battle Campaign ended 8/9. The Delight Cubes will be deleted from your inventory on 8/30.
- Summer versions of Crim, Chibi Ivis, and Ion will be available in Angel Shop until 9/6 !
- UCx2 Multipliers has ended.
- Rt to UC Exchange items have been removed from Shop.
- Super Friendship Bonus Campaign has ended.