This week we bring you a new
UC Robo gara ~
!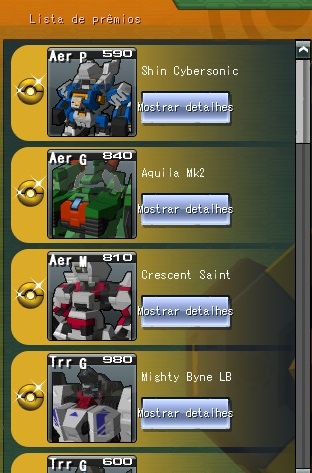 Code:

Shin Cybersonic
Aquila Mk2
Crescent Saint
Mighty Byne LB
Hound Dog X
SturBanger Standart
Pulsadio Gamma
Cross Raptor
Gathima Nieuport
Toybox HEAT
Lucheer DP
Lucheer DB
Cyburning
Armed Build Arm
Domiclow Jo
Lancerlot
Lancerlot J.
Crescent Saint
HP Juana
RP Juana
Psycho Formula II
1x 5000 UC
5x 20000 UC
All 1s.
Welcome new heroes!
New players who create an account on the day 01/22/14 will receive the following items:
- Limit Remover lvl 5 x3
- UC x2 Ticket Alpha x5
- XP x2 Ticket alpa x5
- DROP x2 Ticket Alpha x5
- Reset Cartridage ALL x3
- Level Up 5>6 x3
- Cosmo Harmonic alpha x5
- Slot Protector alpha x5
- Cosmic Premium Pack 30days x1
- Deluxe Tune Up Set x1
- BrickGale BLACK 2s x1
Summer Skin Event ~
The theme for the contest is
summer
, as an example we mention the beaches, sports and holidays, the skin may be related to activities carried out in the summer.
Rules ~ :
- The skin participant must comply with the proposed topic (Summer).
- Accessories may be used to compose the skin.
- The skin should be sent in this email: evento.cosmicbreak @ cyberstep.com
- The sending of the skin should contain the name of the robot in which the skin was taken, the images of the skin should be named with their respective parties and a print of the robot using the skin.
Entries: 01/06.
Deadline: 01/31 ~ 18:00 server time.
The result will be announced on 02/07.
Prizes ~:
3° place - 60 RT
2° place - 90 RT
1º place - 120 RT