Okay since many people have been asking, and asking, and ASKING me for it, and since Eve is coming once again to Garapon soon, I've decided to finally make a guide to Land Type Eve. But before that, allow me to introduce briefly who Eve is.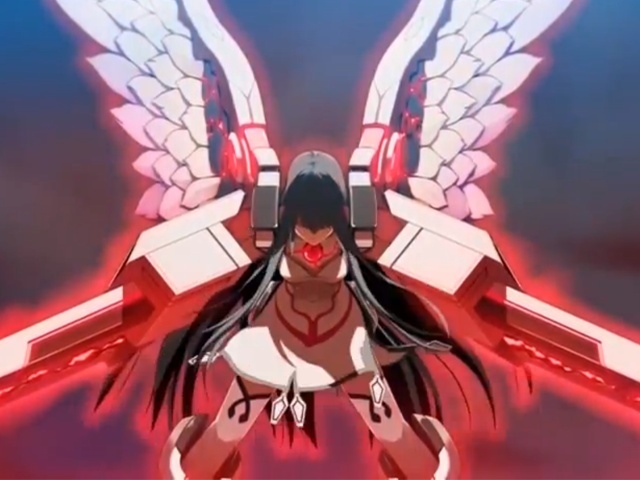 (skip this next paragraph if you just want to get to the play guide)
Background:
If you've seen Lily Rain EVE's story arc you know how Lily Rain picks up a mysterious weapon with a tormented soul sealed inside. Through her psychokinetic powers, she was able to communicate with that lost soul and use the weapon to ward off the dangerous Kisril of the Chaos army. That soul trapped inside the cannon was Eve, who was responsible for the death of her own friends who she cherished deeply. Through all her sorrows and regrets, she sealed herself inside her weapons and armor into a cannon-like casket. Thanks to Ravi, Lily Rain EVE was able to leap back through time and save Eve from the grip the Arc of Wrath had on her that caused her to go berserk. Although she was saved from her own torment, Eve still retains some power left from the Arc of Wrath, giving her deadly abilities for wiping out many at once.
Overview
Eve is basically like a cross between Eris, Aquila Girl, and Seraph Crimrose FC, making her deadly in group play both as Air or Lnd Type. But Lnd Eve, when used right, can scatter large groups like support groups and cause a lot of chaos on the opposing team, perhaps mores so than even Eris or Sylvia.
Ruin Blade
First thing to know about Lnd Eve's Ruin Blade is that her first attack, when used in the air, will always send her downward. So air tracking will not be possible unless you get a good enough distance from the ground or hit something first. All of the rest of her attacks afterwards can air track. Lnd Eve has two kinds of Ruin Blades. The one that's used without Rage Gradia is okay on its own, with Eris-like reach and it's good for knocking opponents away. It's best to stay with this weapon if you want to keep a ground skirmisher off you or your group. Ruin Blade with Rage Gradia is perhaps one of the most frightening things about Lnd Eve. It has the greatest reach and attack radius out of any melee weapon in the game that can constantly hit an opponent or chase them with its speed, range, and attack area, making it very hard to escape from for Art users. It can also be good for low flying airs to knock them out of range or to catch them if they try to fly after landing. All you need to do is do the first melee attack right after a running jump to gain some height and you'll be doing an air combo right on your opponent. This will also put you above a grounded opponent that relies a lot on flying to prevent them from jumping.
Calamity Burst
The other most frightening thing that any Lnd Eve should have is Calamity Burst. This is a main weapon attack that releases an AOE projectile right were the weapon is used that knocks the opponent slightly upwards and inflicts the status effect *Powerless. Despite its (est.) 5sec cooldown, this is Lnd Eve's best offensive and defensive tool. This is able to catch any unsuspecting opponent right within its tracks leaving them vulnerable for a follow-up melee attack. Its large AOE is great against large defenseless groups too racking up a lot of damage to the enemy team. Even under the status effect Shock, she can drop a Calamity Burst on anyone to regain the advantage. Calamity Burst can also make a good escape trick for when you need to retreat. Since Calamity Burst drops wherever you use it, you can drop it right behind you stopping Lnds and/or Airs that try to chase you. Calamity Bursts will also restore some of the Wonder Gauge for you to use Eve's feather bit.
*Powerless- a status effect that drastically slows down melee attacks, while also making it so that the melee attack cannot stun opponents in melee or dash animations. It's an effect similar to shock but doesn't interrupt the melee combo (if they have CV or Super Armor).
Rage Gradia
Rage Gradia is a buff for Lnd Eve that gives her Power Gain (for Ruin Blade), All-Guard, and Free Boost Run. Using Rage Gradia also refills the Boost Gauge. However, using Rage costs 30 HP with each use. So use this effect conservatively or in case of an emergency, especially if you are in a team with no medic. But if you plan on going into a group of enemies, it's best to activate this effect first so you have All-Guard active for reducing overall damage and making the Ruin Blade more practical in such a combat situation. One additional effect is decreasing Boost Gauge consumption while using Air Dashes like Glide Boost.
Glide Boost
Now Glide Boost is a bit of a weird Air Dash cart. While Float Dash was a really popular dash cart on Lily Rains and Lily Rain EVEs, my guess is that CS wanted to do something interesting by making it an air dash for Lily Rain EVE's counter-part. Since float dash is a cart used a lot with Fly based builds, a mid-air version of that is useless for a Lnd Eve right? WRONG. Glide Boost is a very good thing to have for a Lnd Eve. What mostly every player tends to miss when using Float Dash is that it's not always dependent on Fly stats. In fact Boost Run stats can actually effect Float Dash speed too, making it sort of like a manual Boost Run that can also be used as an evasive move for Land types that have the cart. Now with all that said, the speed in which Lnd Eve can Glide Boost is relative to how fast she can possibly Boost Run. So under Rage Gradia, she can become like a mock-air melee. Even though she can't air track with her melee, she can use the melee to drop in on Arts right below her.
EVE Archetype and Feather Bit
Other last things to note are her standard issue main weapon EVE Shot and special Feather Bits. EVE Shot has decent stats and damage even under 0 TEC so it makes a good fallout weapon when you need to keep your distance or finish off a flying enemy out of reach. Feather Bits are Eve's default bits, firing shots from the wings right at a nearby enemy. These are more effective up close and can work in conjunction with the EVE Archetype for when you need some additional ranged firepower from a distance. Since the bits and its projectiles can block most attacks, the bits can also function as side shields for when you're surrounded. Feather Bit Blade sends out revolving orbs that deal damage and protect Eve at the same time. After about 5 seconds of activation the two orbs split in four offering a wider barrier of protection. However, the bits are very small and are sort of unreliable. While they can do damage and revolve around you, they ARE NOT Spike Bits; they can't auto stun whatever touches them.
(Note: since Feather Bits count as Special Wonder Bits, they are not effected by stat changes or 0's. So it's safe to tune the TEC stat for 0 if you wish)
Overall Summary
To sum all this up, Lnd Eve is best as a hit and run rush type. If you have her be a flat-out melee brawler, she's going to get decimated so fast before you have a chance to deal more damage than your cost worth. She may be great offensively and defensively, however her survivability in the arena is really weak. Make sure you do this list of things while using her:
1) Mind her HP. You'll probably need to watch this especially if you use Rage Gradia often. She has a very low HP pool so it's really easy to get in the red a lot. HEAL ANY CHANCE YOU GET.
2) Choose your targets and approach strategy wisely. She's good against most groups but make sure you don't end up facing a hard hitting Air weapons like Flapjack AMs or Initone's BD. Plus if players see you coming from an obvious angle you're going to get a face full of bullets before reaching your target.
3) Use Calamity Burst and Feather Bits as much as you can. Doesn't mean always use them but just use them to make things easier for you. Calamity Burst should be used for blocking your enemy's escapes, covering your own escapes, or debuffing a melee to make them faster to do away with. You can only use it in groups if you think it will be worth the risk. Always keep Feather bit up for providing additional damage or defense.
4) Always make sure you have back-up and/or support with you. Eve is great with destroying groups as much as she can't live without them. If she's going to be fighting a group all on her own while the team is camping, she won't last for very long. What's even worse is that she will not have a team to retreat to either if things get too heated. If your team has a medic, heal, heal, heal as much as you possibly can. She has to sacrifice a lot of HP to stay around to do some major damage, so using Calamity Burst with ranged weapons to defend your healer from rushing group breakers like Eris or Mechintlet is a top priority.
Builds
When you're building a Lnd Eve, it's best to keep these stats in mind in order of importance: HP>Boost Run Stats/Tgh>Weapon Performance/Str. Her Tgh and HP start out dangerously low, but makes up for this by having great Wlk and Fly stats. Make sure she has as much HP as humanly possible while giving her enough speed to escape. Weither you choose Boost Run or Glide Boost when carting her, it's good to keep it at Yellow Tier Boost Run or higher. Glide Boost at Orange Tier Boost Run stats give her almost as much speed as a 38 Fly Air which makes it hard to get away from and hard to catch. Tgh is a vital stat for survivability too which is why I put this next to Boost Run in terms of importance. Depending on how confident you want to be in facing groups, you need at least 12 or 16 Tgh on Eve. Since Ruin Blade already is a fast and far-reaching melee attack, boosting the speed and range with Gladiator tunes will certainly make it even harder to escape from and also making the melee weapon more practical in enemy groups. And for completion's sake, put whatever Beast or Ex Str tunes you can on her to give her a boost in damage and HP.
Cart choice are also based on preference. Boost Run works well with Lnd Eve since she has Rage Gradia to keep her constantly Boost Running. If you're going to have to pick Assault Step to compliment this cart so she can avoid more damage in combat. The Boost Run/Assault Step cart choice is better if you want to stick with a more traditional melee build with more versatility against ground enemies. The Glide Boost set up I demonstrated is a very advanced and strange set up that is not really recommended for those who aren't used to using Jet Accel BS or Volcanics Wings. If you do choose Glide Boost, pick Short Boost to go with it so it can be easy for her to go right into flying. This Glide Boost/Short Boost setup is best for when you want to make your Lnd Eve more suited for taking out Art types or sneak attacks.
Here are a couple of build I made for Lnd Eve users to have, both ExTuned and Non-ExTuned:
This one is the build I currently use for Lnd Eve
Spoiler:
Boost Run Lnd Eve (for more traditional melee users)
Spoiler:
Glide Boost Lnd Eve (for making a good Art killer)
Spoiler:
Battle Demonstrations
I'll have video demonstrations up soon.
Now that you have a good idea on how to use Lnd Eve make sure to check back here before starting to tune her properly. If you have any more questions on Land Eve, feel free to ask me whenever I'm online. So for any who don't have her already, good luck on getting her this Thursday. We all know you're excited, but don't spaz out! Also make sure to have plenty of calcium. :3